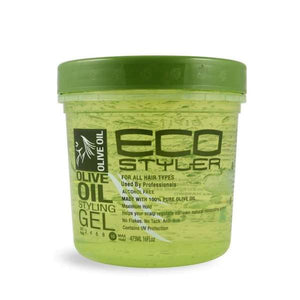 BENEFITS 
Ecostyler Olive Oil Styling Gel is made with 100% pure Olive oil. It helps your scalp naturally regulate its own moisturizing system by attracting moisture to the scalp and holding it in. Like all of Eco styling gels, it is weightless and will leave your hair with a healthy shine and superior hold.
HOW TO USE
Apply to dry or wet hair. Work desired amount through hair and style.
KEY INGREDIENTS 
FULL INGREDIENTS 
Water (aqua), carbomer, hydrolyzed wheat protein, pvp, glycerin, triethanolamine, sodium hydrxymethyglycinate, polysorbate 20, tetrasodium edta, olive oil, fragrance, blue #1, yellow #11.