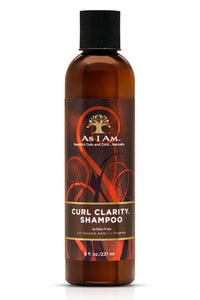 BENEFITS 
Refresh and revitalise curly or coiled hair textures with As I Am Curl Clarity Shampoo; a lightweight formula that cleanses the hair and scalp without stripping natural moisture.
Utilising Coconut, Amla and Tangerine, the rejuvenating shampoo gently eliminates impurities and product build-up, whilst combating dry, dull hair and increasing manageability for luscious, healthy-looking locks. Expect clean, calm hair that is easier to style.
Sulphate-free.
Safe for colour-treated hair.
HOW TO USE 
Wet hair thoroughly. Apply generous amounts of Curl Clarity Shampoo, to the palm of your hands and massage the scalp well using a circular motion. Start at the top of the head, working from front to back followed by the sides and nape of the neck. Apply more to the lengths of the hair and loosely detangle with fingers. Rinse hair thoroughly, gently massaging the scalp to ensure all residue is removed.

KEY INGREDIENTS
Coconut - 

stimulates hair growth, promotes scalp health and gives hair a gloss and shine.



Amla - prevents and treats dandruff and dry scalps. 
Tangerine - infused with vitamin A which helps the hair stay hydrated by increasing the hair production of sebum. 
FULL INGREDIENTS 
Aqueous (Water, Aqua Purificada, Purified) Extracts: Cocos Nucifera (Coconut)¹ and Phyllanthus Emblica (Amla)¹ and Citrus Reticulata (Tangerine)¹, Sodium Lauroyl Sarcosinate, Cocamidopropyl Betaine, Hydroxypropyl Methylcellulose, Fragrance/Parfum, Citric Acid, Potassium Sorbate, Glucose, Lactoperoxidase, Glucose Oxidase, Limonene.
Source: 1-Natural