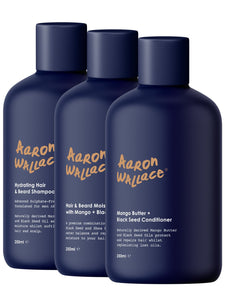 BENEFITS
Aaron Wallace's 3 Step Haircare System is specifically formulated Hair care system for Black men.
Composed of our Aaron Wallace: Hydrating Hair and Beard Shampoo, Conditioner and Moisturiser. All uniquely infused with Mango Butter & Black Seed Oil.
Their completely natural formulations gently cleanse, strengthen and moisturise to combat early receding hair and patches in the beard. We focus on maximum hydration and nutrition to penetrate thick hair and nourish down to the follicle. Creating healthier, more supple head and beard hair.
Infused with distinct notes of amber, leather and spices opening with baies rose, bergamot and lime.
HOW TO USE 
Apply a generous amount of Shampoo to hair and beard and massage in with your finger tips. Repeat as needed then rinse thoroughly.

Apply conditioner to you wet and or damp hair and beard and leave in for approx 5-10 mins. Rinse out thoroughly.
Lastly, apply to hair and beard after conditioning hair and beard. Can also be used in combination with beard oil.
KEY INGREDIENTS 
Mango Butter - is packed with fatty acids and vitamins, it is a moisture rich food for your hair which protects the cuticle from damage and is especially advantageous in moisture retention.

Black Seed Oil - helps to nourish and strengthen the skin to promote healthy growth of beard. This oil also helps to condition dry and brittle hair.
Shea Butter - moisturises dry and damaged skin and helps soften and smooth hair.